---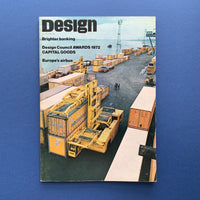 Sale
Design: Council of Industrial Design No 281, May 1972
Sale price $9.07 Regular price $15.55
Tax included.
Shipping
calculated at checkout.
Editor: Corin Hughes-Stanton
Publisher: Council of Industrial Design
Publication: 1972, First Edition
Binding: Softcover, section sewn
Pages: 74
Size: 210 x 297
Text: English
Contents:
26 Comment
29 News
31 Diary
33 Design Council Awards 1972 - capital goods David Rowlands describes two of this year's winners
34 Lancer Boss sideloader
36 Talyrond roundness measuring instrument
38 Banks branch out Nicholas Woodward on how banks are changing and why
44 Six bank interiors described by José Manser: Toronto-Dominion;
48 Morgan Grenfell, Fleming Suez Brown, Midland; 50 National Westminster; 52 Standard
54 Cheque points roundup of new and old designs
56 New faces, old features Ken Campbell on how banks put themselves over to the public and to themselves
62 Europe pieces together the airbus David Woolley on an exercise in international collaboration
66 Düsseldorf shows how a new trade centre that could encourage others
70 Rising suns the sunrise in decorative art
72 Clash of symbols Ron Easterby sizes up two graphic design sourcebooks
76 Dunlop's easy rider David Rowlands on the Speedaway pedestrian movement system
80 Projects and developments
82 Interiors
84 Things seen
Condition: Very Good. All titles are used and show shelf ware consistent with age. Slight rubbing and tanning to covers/spine. Please contact me for further information on condition.
Standard Postage: Provides limited cover for loss/damage only up to £20GBP. Please select the alternative postage option for full cover. Excess shipping charges will be reimbursed. Any import charges/taxes, if incurred, to be covered by the buyer.
1006