---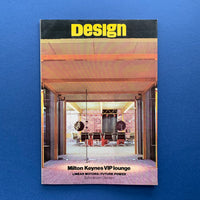 Design: Council of Industrial Design No 295, Jul 1973
Regular price $0.00
Tax included.
Shipping
calculated at checkout.
Editor: Corin Hughes-Stanton
Publisher: Council of Industrial Design
Publication: 1973, First Edition
Binding: Softcover, section sewn
Pages: 74
Size: 210 x 297
Text: English
Contents:
14 Comment
16 News
18 Projects and Developments
20 Things Seen
23 New Products
25 Diary
26 Filter research centre Bill Swallow assesses a low budget project by Michael Manser Associates for Vokes Ltd, Guildford. Photographed by Richard Davies
30 School for the handicapped Foster Associates' new generation solution. Report by Selwyn Goldsmith, photographs by Richard Davies
34 Spots from Spain
46 Workers' banners A show of solidarity described by Alastair Best
48 Milton Keynes conference room A showcase for VIPs. Alastair Best reports
52 Room dividers by SMP Two ways to carve up teaching areas, described by José Manser
56 Linear induction motors Mike Kenward predicts a flourishing future. Drawings by Richard Draper
61 Interiors
Condition: Very Good. All titles are used and show shelf ware consistent with age. Slight rubbing and tanning to covers/spine. Please contact me for further information on condition.
Standard Postage: Provides limited cover for loss/damage only up to £20GBP. Please select the alternative postage option for full cover. Excess shipping charges will be reimbursed. Any import charges/taxes, if incurred, to be covered by the buyer.
1009/7