---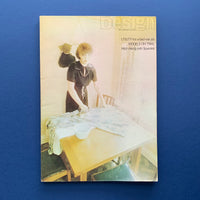 Sale
Design: Council of Industrial Design No 309, Sept 1974 (2)
Sale price $8.97 Regular price $15.37
Tax included.
Shipping
calculated at checkout.
Editor: Corin Hughes-Stanton
Publisher: Council of Industrial Design
Publication: 1974, First Edition
Binding: Softcover, section sewn
Pages: 74
Size: 210 x 297
Text: English
Contents:
News
Comment
Projects and developments
Things seen
New products
Diary
Book League show Nicolas Barker reviews British Book Design and Production 1974
Spacelab winner final design for Europe's first manned space vehicle, described by Ted Wilding-White
Modelmaking methods the crucial importance of three-dimensional 'drawing board' techniques, discussed by Robert Madge
Utility the strengths and weaknesses of Government-controlled crisis design. Interviews by Alastair Best and Mark Brutton
Innovator's economy package saving graces of a Swedish furniture range, discussed by Michael John
Bristol ceramics Dip show pieces from the Bristol school. Report by Ilse Gray
Tractor seating Phillip Hill discusses Bostrom's automotive award-winning developments
Warsaw posters work from the fifth International Poster Biennale
Energy for agriculture David White examines improvements in food-value productivity
Interiors
Condition: Very Good. All titles are used and show shelf ware consistent with age. Slight rubbing and tanning to covers/spine. Please contact me for further information on condition.
Standard Postage: Provides limited cover for loss/damage only up to £20GBP. Please select the alternative postage option for full cover. Excess shipping charges will be reimbursed. Any import charges/taxes, if incurred, to be covered by the buyer.
1023