---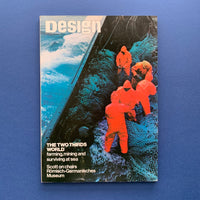 Sale
Design: Council of Industrial Design No 310, Oct 1974 (2)
Sale price $9.07 Regular price $15.55
Tax included.
Shipping
calculated at checkout.
Editor: Corin Hughes-Stanton
Publisher: Council of Industrial Design
Publication: 1974, First Edition
Binding: Softcover, section sewn
Pages: 74
Size: 210 x 297
Text: English
Contents:
18 News
20 Comment
22 Projects and developments
24 Things seen
29 New products
31 Diary
THE SEA introduction by Phillip Hill
32 Glasgow University's latest research into oil rig and tanker design, discussed by Phillip Hill
34 Supertanker sandwich a Scottish yard builds the giant Nordic Clansman in two halves, report by Phillip Hill
37 Wheelhouses an examination of the ergonomic factors by Mark Brutton
41 Decca Radar a new design group successfully rethinks some established products. Report by Mark Brutton
44 Lighthouses, lightships and buoyage David Rowlands surveys developments and confusion in the international navigational system
48 Lifeboat design one of the most controversial branches of marine architecture, discussed by David Rowlands
54 Cable laying Ken Haigh looks at the latest techniques and the Post Office's newest ship
58 Norwegian knowhow produces the oil rig of the 'eighties. Report by Bob Barton
62 Fishing technology new developments in trawlers and nets could threaten the industry with self-destruction. Report by Mike Wood
64 Marine energy futuristic devices for harnessing power from the sea, described by Anthony Tucker
68 Angus an unmanned, experimental submersible built by Heriot-Watt
70 University, described by Tony Loftas
74 Hille goes mass market with the help of Fred Scott. Kenneth Owen reports
80 Cologne crowd-puller the new Römisch-Germanisches Museum lifts museum design and display to new levels. Report by Gisela Brackert
Condition: Very Good. All titles are used and show shelf ware consistent with age. Slight rubbing and tanning to covers/spine. Please contact me for further information on condition.
Standard Postage: Provides limited cover for loss/damage only up to £20GBP. Please select the alternative postage option for full cover. Excess shipping charges will be reimbursed. Any import charges/taxes, if incurred, to be covered by the buyer.
1024