---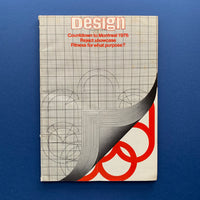 Design: Council of Industrial Design No 313, Jan 1975 (2)
Regular price $0.00
Tax included.
Shipping
calculated at checkout.
Editor: Corin Hughes-Stanton
Publisher: Council of Industrial Design
Publication: 1975, First Edition
Binding: Softcover, section sewn
Pages: 74
Size: 210 x 297
Text: English
Contents:
18 News
19 Comment
20 Projects and developments
22 Things seen
27 New products
29 Diary
30 Montreal Olympics the buildings. Pamela Ferguson
32 describes the political turmoil surrounding their design Montreal Olympics the graphics. Georges Huel tells Pamela Ferguson about their development
40 Electronic ignition Phillip Hill explains why a €10 development is too costly
42 DIA's Diamond Jubilee Sir Misha Black examines the old 'fitness for purpose' slogan
46 Also rans outstanding but unused design projects, described by Alastair Best
52 Free for all an image for giveaway magazines. Report by David White
52 Exhibition stands poor design tends to be the rule.
56 Phillip Hill finds three exceptions
62 Not so much a bus more a rolling hospital kit.
66 David Rowlands describes a British Leyland project
68 Interiors
Condition: Very Good. All titles are used and show shelf ware consistent with age. Slight rubbing and tanning to covers/spine. Magazine folded through mid section. Please contact me for further information on condition.
Standard Postage: Provides limited cover for loss/damage only up to £20GBP. Please select the alternative postage option for full cover. Excess shipping charges will be reimbursed. Any import charges/taxes, if incurred, to be covered by the buyer.
1027/52