---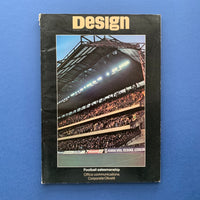 Design: Council of Industrial Design No 315, Mar 1975
Regular price $0.00
Tax included.
Shipping
calculated at checkout.
Editor: Corin Hughes-Stanton
Publisher: Council of Industrial Design
Publication: 1975, First Edition
Binding: Softcover, section sewn
Pages: 74
Size: 210 x 297
Text: English
Contents:
26 News/Comment
29 Projects and developments
31 Things seen
35 New products
37 Diary
40 OFFICE COMMUNICATIONS hardware and systems to ease office life
44 Halifax Building Society a retrieval system geared to two million mortgage documents, described by Andrew Parker
45 Operator's work station new development for long-distance telephonists reported by Stephen Jeffery
46 Logic telephone multi-purpose modular communications system. Report by Stephen Jeffery
49 2900 computer the long-awaited addition to ICL's popular range. Report by Euan Barty Air tube carriers up-date on a seventy year old document distribution system, described by Ken Hill
50 Automatic typewriters machines which take away the copy-typist's drudgery. Report by Ken Hill
52 Office planning who is best able to create an efficient and agreeable working environment? José Manser reports
54 Machine age work surfaces José Manser describes a range of unusually machine- conscious office furniture
56 Olivetti by the book a firm with an established image produces its first corporate identity manual. Alastair Best reports
62 Corporate identity Alastair Best argues the case for and against imposing an artificial image
63 Football stadia giant bus shelters or multipurpose centres for community activity? Robert Scott reviews some alternatives
70 Mono Chair Program an industrial design story, by Alastair Best
72 Interiors
Automatically receive 10% off all orders over £50 at check-out when you purchase bundles of DESIGN magazine.
Condition: Very Good. All titles are used and show shelf ware consistent with age. Slight rubbing and tanning to covers/spine. Please contact me for further information on condition.
Standard Postage: Provides limited cover for loss/damage only up to £20GBP. Please select the alternative postage option for full cover. Excess shipping charges will be reimbursed. Any import charges/taxes, if incurred, to be covered by the buyer.
1028/0