---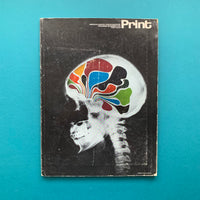 Print; America's Graphic Design Magazine, Nov/Dec 1976 XXX:VI
Regular price $0.00
Tax included.
Shipping
calculated at checkout.
Editor: Martin Fox
Publisher: Robert Cadel
Publication: 1976, First Edition
Binding: Softcover, perfect-bound
Pages: 96
Size: 225 x 305
Text: English
Contents:
The Front Page - Newspaper formats tend to be standardized. But a few are adventurous
A Sort of New Look for the New York Times - To most of its readers, the paper looks the same, only different
An Unquiet Imagination - Who ever thought Gary Viskupic would have such things going on in his head?
Designer in the Board Room - Sheldon Seidler can boast special insight into corporate attitudes on design
The Nature of Dutch Design - It is practical, inventive, un-flashy like the Dutch people themselves
PRINT's Annual Report on Annual Reports - They are getting to look better, but also more alike
Condition: Good. All titles are used and show shelf ware consistent with age. Ex-libris, with ink stamp to cover. Rubbing to covers. Tanning to outer edges of pages. Slight standing to head and foot a number of pages. Please contact me for further information on condition.
Standard Postage: Provides limited cover for loss/damage only up to £20GBP. Please select the alternative postage option for full cover. Excess shipping charges will be reimbursed. Any import charges/taxes, if incurred, to be covered by the buyer.
1131/5