---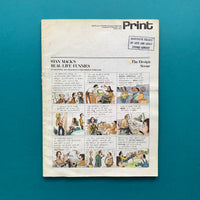 Sale
Print; America's Graphic Design Magazine, Jan/Feb 1976 XXX:I
Sale price $5.18 Regular price $7.78
Tax included.
Shipping
calculated at checkout.
Editor: Martin Fox
Publisher: Robert Cadel
Publication: 1976, First Edition
Binding: Softcover, perfect-bound
Pages: 116
Size: 225 x 305
Text: English
Contents:
The Limits of Design - The new Village Voice raises the issue of what exactly "good design" is
The Artist as Eavesdropper - "Stan Mack's Real Life Funnies" holds a mirror up to - us
The Caribbean: A Designer's-Eye View - A report on the state of design in six Caribbean islands
Like Minds, Strong Design - Roger Cook and Don Shanosky reflect their own quiet assurance in their work
Word Ligatures - Toward the design of new reading systems
On the Moonlight Express, a Book is Only Paper Sewn Together - Tyler School of Art students design, illustrate and bind their own books
Seeing Things - A potpourri of current graphic events
Top Packages of the Year: 1976 Edition - The first of a series of special PRINT bonus supplements
Condition: Good. All titles are used and show shelf ware consistent with age. Ex-libris, with ink stamp to cover. Rubbing and slight staining to cover. Tanning to outer edges of pages. Please contact me for further information on condition.
Standard Postage: Provides limited cover for loss/damage only up to £20GBP. Please select the alternative postage option for full cover. Excess shipping charges will be reimbursed. Any import charges/taxes, if incurred, to be covered by the buyer.
1132