---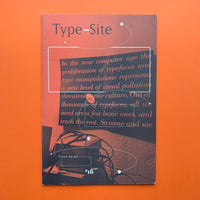 Emigre #18: Type-Site (1991)
Regular price $0.00
Tax included.
Shipping
calculated at checkout.
Editor: Rudy VanderLans
Publisher: Emigre, Inc.
Publication: 1991, First (Limited) Edition of 6,500
Binding: Softcover, saddle-stitch
Pages: 36
Size: 222 x 325
Text: English
Design: Rudy VanderLans
Emigre was a quarterly magazine published from 1984 until 2005 in Berkeley, California, dedicated to visual communication, graphic design, typography, and design criticism. Produced by Rudy VanderLans and Zuzana Licko, Emigre was known for creating some of the very first digital layouts and typeface designs.
Contents:
Elizabeth Dunn, Marvelous (typeface design).
Mail.
Rudy VanderLans, Phil Baines (introduction).
Phil Baines, Clear Enough to Read (typography and essay).
Rudy VanderLans, interview with Phil Baines.
Elizabeth Dunn, In My Face (essay).
C. de Smet, Pierre di Sciullo (introduction).
Pierre di Sciullo, Quantage—Introduction and Across Illegibility (typographic explorations).
Rudy VanderLans, Play with Toys (poster stapled into center).
Erik van Blokland and Just van Rossum, Is Best Really Better? (essay).
Madam X, Madam X (a story about type, drawings).
Barry Deck, Template Gothic (advertisement).
Automatically receive 15% off all orders over £50 at checkout when you purchase items in the 'Bundles' category. 
Condition: Very Good. All titles are used and show shelf ware consistent with age. Light rubbing and tanning to cover/edges. Please contact me for further information on condition.
Standard Postage: Provides limited cover for loss/damage only up to £20GBP. Please select the alternative 'tracked postage' option at checkout for full cover on more valuable items! Excess shipping charges will be reimbursed. Any import charges/taxes, if incurred, to be covered by the buyer.
#1758/40