---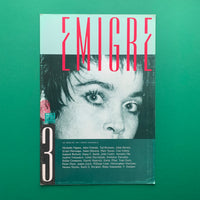 Emigre #3: The Magazine That Ignores Boundaries (1985)
Regular price $0.00
Tax included.
Shipping
calculated at checkout.
Editor: Marc Susan
Publisher: Emigre, Inc.
Publication: 1985, First (Limited) Edition of 3,000
Binding: Softcover, saddle-stitch
Pages: 32
Size: 222 x 325
Text: English
Design: Rudy VanderLans

Emigre was a quarterly magazine published from 1984 until 2005 in Berkeley, California, dedicated to visual communication, graphic design, typography, and design criticism. Produced by Rudy VanderLans and Zuzana Licko, Emigre was known for creating some of the very first digital layouts and typeface designs.
Contents:
Michelle Vignes, Autour du Mouvement Indien (photographs, text by Alice Polesky).
John Hersey, Yul Brynner (digital portrait).
Grant Muruaga, A Homage to Grant Muruaga (poem: Anne Gleeson, paintings: Muruaga).
Marc Susan, Bye Bye Bohemians (essay).
Lisa Cohen, Back to Capetown, Part One: Leeuwen Street. (poem). PDF Download
Dana F. Smith, Samuel Beckett (portrait painting).
John Fante, The Odyssey of a Wop (short story).
Rudy VanderLans, Boundaries Ignored (poster for Emigre Magazine Event #3 stapled into center).
Andrei Toluzakov (poem) and Antonio Ole (photo collage).
Lewis MacAdams, To the Russian Women (poem, with Russian translation).
Didier Crémieux, Tales of Exotica (cartoon strip).
Marek Majewski, Self Portrait (photographs).
Gavin Flint, Visions of a Childhood in Japan (paintings).
Tom Clark, Northwest 157 (poem).
Peter Plate, Predestination (short story, portrait painting: Dana F. Smith).
William Cone, James Joyce (portrait painting).
Marc Susan, interview with Menno Meyjes. PDF Download
Menno Meyjes, The Death of Christopher Marlowe (screenplay for ballet). PDF Download
Bijan Samandar, Tea Time in Persia (back cover poem), Badri E. Borghei (painting), F. Heidari (calligraphy).
Condition: Very Good. All titles are used and show shelf ware consistent with age. Light rubbing and tanning to cover/edges. Please contact me for further information on condition.
Standard Postage: Provides limited cover for loss/damage only up to £20GBP. Please select the alternative 'tracked postage' option at checkout for full cover on more valuable items! Excess shipping charges will be reimbursed. Any import charges/taxes, if incurred, to be covered by the buyer.
#1765/120