---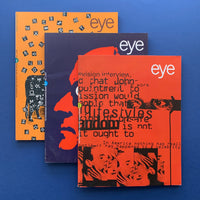 Eye 8, 9, 10 / International Review of Graphic Design LOT
Regular price $0.00
Tax included.
Shipping
calculated at checkout.
Editor: Rick Poynor
Publisher: Wordsearch Ltd.
Publication: 1993, First Edition
Binding: Softcover, perfect-bound
Pages: 88
Size: 240 x 294
Text: English
Kickstart your 'Eye, International Review of Graphic Design' collection:
No.8, Vol.2 1993; Skolos Wedell, Raw, Quentin Fiore, Sheila Levrant de Bretteville, Post-modernism.
No.9, Vol.3 1993; Max Bittrof, Derek Birdsall, Video packaging, Roman Cieslewicz, Ugly design.
No.10, Vol.3 1993; Alexander Liberman, Alvin Lustig, Edward Wright, Vaughan Oliver, Shinro Ohtake.
Automatically receive 15% off all orders over £50 at checkout when you purchase items in the 'Bundles' category.
Condition: Very Good. All titles are used and show shelf ware consistent with age. Light rubbing to covers. Light fading to spine. Please contact me for further information on condition.
Standard Postage: Provides limited cover for loss/damage only up to £20GBP. Please select the alternative 'tracked postage' option at checkout for full cover on more valuable items! Excess shipping charges will be reimbursed. Any import charges/taxes, if incurred, to be covered by the buyer.
27