---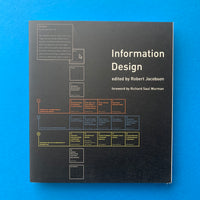 Information Design
Regular price $7.78
Tax included.
Shipping
calculated at checkout.
Editor: Robert Jacobson
Publisher: MIT Press
Publication: 2000, Paperback Edition
Binding: Softcover, perfect-bound
Pages: 256
Size: 205 x 230
Text: English
(Preface) 'Information design is the newest of the design disciplines. As a sign of our times, when the crafting of messages and meaning is so central to our lives, information design is not only important―it is essential. Contemporary information designers seek to edify more than to persuade, to exchange more than to foist upon. With ever more powerful technologies of communication, we have learned that the issuer of designed information is as likely as the intended recipient to be changed by it, for better or worse. The contributors to this book are both cautionary and hopeful as they offer visions of how information design can be practiced diligently and ethically, for the benefit of information consumers as well as producers.'
Condition: Fine/Near Fine. All titles are used and show shelf ware consistent with age. Light rubbing to cover.
Standard Postage: Provides limited cover for loss/damage only up to £20GBP. Please select the alternative 'tracked postage' option at checkout for full cover on more valuable items! Excess shipping charges will be reimbursed. Any import charges/taxes, if incurred, to be covered by the buyer.
#2193