---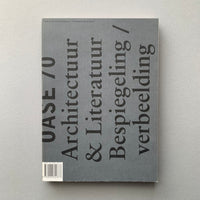 OASE No.70: Architecture & Literature
Reflections/Imaginations (Karel Martens)
Regular price $0.00
Tax included.
Shipping
calculated at checkout.
Editors: Christoph Grafe, Madeleine Maaskant, Klaske Havik
Publisher: NAi Publishers
Publication: 2006, First Edition
Binding: Softcover, section sewn
Pages: 191
Size: 170 x 240
Text: English, Dutch
Design: Karel Martens, Louise Dossing, Susanne Stetzer, Werkplaats Typografie
Since the early 1990s, literary reflection as a component of the architectural discourse has disappeared into the background. In a favourable economic and political climate, those working within the Dutch world of architecture had plenty of other things to keep them occupied. The architectural vanguard in the Netherlands, now known as 'SuperDutch', scored successes without any cause for reflection. Now that the boom of the SuperDutch era is past its peak encounters between different artistic disciplines are once again being employed in a process of reciprocal exchange. Literature not only provides descriptions of a reality, but also opens up new perspectives. In this issue of OASE, areas discussed include the (auto-) biographical novel, in which highly personal descriptions and narratives challenge us to look at architecture in a different way and what literary reflection can represent for architectural practice.
Automatically receive 15% off all orders over £50 at checkout when you purchase items in the 'Bundles' category."
Condition: Very Good. All titles are used and show shelf ware consistent with age. Light rubbing and tanning to cover.
Standard Postage: Provides limited cover for loss/damage only up to £20GBP. Please select the alternative 'tracked postage' option at checkout for full cover on more valuable items! Excess shipping charges will be reimbursed. Any import charges/taxes, if incurred, to be covered by the buyer.
#2216/16