---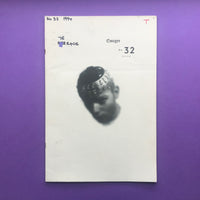 Emigre Issue #32 (Essays, Texts and Other Writings about Graphic Design)
Regular price $0.00
Tax included.
Shipping
calculated at checkout.
Editor: Rudy VanderLans 
Publisher: Emigre Graphics
Publication: 1994, First Edition
Binding: Saddle stitched
Pages: 40
Size: 285 x 425
Text: English
Typeface designs: Zuzana Licko
Feature(s): Edition of 7,500
Contents:

Sloy, (automatic writing).
Mail (including Jonathan Barnbrook and Kevin Fenton).
Andrew Blauvelt, In and Around: Cultures of Design and the Design of Cultures, Part 1 (essay).
Brian Schorn, Breathing through the Body of A: A Typographical Approach for the Future (essay and type illustrations).
Hugues C. Boekraad, Norm and Form: On the Role of Graphic Design in the Public Domain (essay).
Putch Tu, Route 666: Transgressing the Information Superhighway (essay).
Mark Bartlett, Beyond the Margins of the Page (essay).
Zuzana Licko, Discovery by Design (essay).
Victor Margolin and Christine Celano, Letters to Christine: An Intertextual Collaboration (text and design).
Condition: Very Good. All titles are used and show shelf ware consistent with age. Ex-libris with ink stamp and inscriptions to cover (only). Slight rubbing to covers. Please contact me for further information on condition.
Standard Postage: Provides limited cover for loss/damage only up to £20GBP. Please select the alternative postage option for full cover. Excess shipping charges will be reimbursed. Any import charges/taxes, if incurred, to be covered by the buyer.
#0800/18