---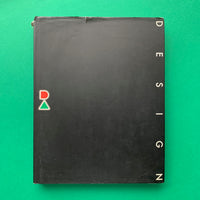 Graphis Design 94
Regular price $0.00
Tax included.
Shipping
calculated at checkout.
Editor: Martin Pedersen
Publisher: Graphis Press
Publication: 1994, First Edition
Binding: Hardcover, section sewn
Pages: 250
Size: 245 x 305
Text: English, French, German
International annual of design and illustration. Owners stamp to inside front cover (Roundel Design Group).
(Preface)"The aim of Art is to disturb" (Braque). The success of the GRAPHIS DESIGN annuals is the result of both a rigorous editorial choice as well as an elegant presentation which provokes an ongoing reflection and impulse to the professionals of communication as well as to enthusiastic amateurs. Faithful to the Graphis doctrine of quality, the 1994 edition of GRAPHIS DESIGN includes an outstanding selection of advertising, design and illustration selected from thousands of contributions worldwide (more than 800 examples, which is 300 more images than last year's annual). The introduction encompasses two important essays: In the first, the advertising magnate Dick Calderhead interviews Jeff Goodby and Richard Silverstein of Goodby, Berlin & Silverstein and summarizes the philosophy of their company which is the key to their success. A brilliant companion to this is Clement Mok's commentary discussing the infiltration of the computer into the world of design. The audience is invited to let themselves be "disturbed" by the variety of styles and new trends applied to the various print works appearing in GRAPHIS DESIGN 94
Condition: Very Good. All titles are used and show shelf ware consistent with age. Slight rubbing, fading and chips to dust jacket. Please contact me for further information on condition.
Standard Postage: Provides limited cover for loss/damage only up to £20GBP. Please select the alternative postage option for full cover. Excess shipping charges will be reimbursed. Any import charges/taxes, if incurred, to be covered by the buyer.
#0981/10