---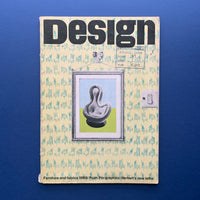 Design: Council of Industrial Design No 242, Feb 1969
Regular price $0.00
Tax included.
Shipping
calculated at checkout.
Editor: Corin Hughes-Stanton
Publisher: Council of Industrial Design
Publication: 1969, First Edition
Binding: Softcover, section sewn
Pages: 74
Size: 210 x 297
Text: English
Contents:
15 Leader: Design in its context
16 Comment: Euston defended; Machine-tool reorganisation; London's lack of a large conference centre; Viewing posture; Museum of science and technology; National suggestions
19 Diary, News
21 People
22 Plastics as plastics introduced by Robert Malone
29 Weaver's trade by Tarby Davenport
32 Shape of kitchens to come by Susan Causey
34 Building on a budget by Jake Brown
38 Desk dividers by Richard Carr
40 Closed space for living environment by Corin Hughes-Stanton
50 Waiting for the air curtain : the ergonomics of doors by Alan Parkin
54 Britain's first sports-wagon by David Owen
58 Projects and developments
60 Products, interiors, events, ideas
66 Books
69 Letters
69 Obituary : Sir Gerald Barry
71 Index of manufacturers, designers and advertisers
Condition: Good. All titles are used and show shelf ware consistent with age. NOTE: Ex-libris, with usual stamps/labels and inscriptions (see images). Cover partially loose from binding. Chips to spines. Rubbing to covers. Please contact me for further information on condition.
Standard Postage: Provides limited cover for loss/damage only up to £20GBP. Please select the alternative postage option for full cover. Excess shipping charges will be reimbursed. Any import charges/taxes, if incurred, to be covered by the buyer.
#0985/7