---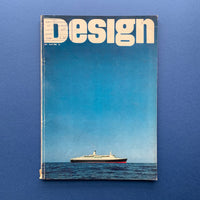 Design: Council of Industrial Design No 244, Apr 1969
Regular price $0.00
Tax included.
Shipping
calculated at checkout.
Editor: Corin Hughes-Stanton
Publisher: Council of Industrial Design
Publication: 1969, First Edition
Binding: Softcover, section sewn
Pages: 74
Size: 210 x 297
Text: English
Contents:
29 Leader: Twenty-one years hard by Sir Paul Reilly
30 Comment: Corporate symbols; Design in education; Polluted environment; Danger to crane drivers continues; Doors in New York
33 Diary, News
35 People
36 Queen Elizabeth 2: a special 48-page feature compiled by Corin Hughes-Stanton, Richard Carr, José Manser, Russell Miller, and Alastair Best with research by Gay Blamey
38 The structure : every inch counts
44 The funnel: wind control is crucial
48 Internal layout of the decks
50 Interiors: the public rooms Midship Lobby
77 Tourist cabins
84 Products, interiors, events, ideas
90 Books
93 Letters
95 Index of manufacturers, designers and advertisers
Automatically receive 10% off all orders over £50 at checkout when you purchase bundles of DESIGN magazine.
Condition: Good. All titles are used and show shelf ware consistent with age. NOTE: Ex-libris, with usual stamps/labels and inscriptions (see images). Cover partially loose from binding. Chips to spines. Rubbing to covers. Please contact me for further information on condition.
Standard Postage: Provides limited cover for loss/damage only up to £20GBP. Please select the alternative postage option for full cover. Excess shipping charges will be reimbursed. Any import charges/taxes, if incurred, to be covered by the buyer.
#0987/10