---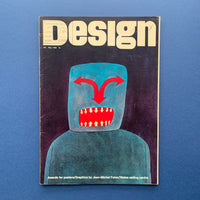 Design: Council of Industrial Design No 245, May 1969
Regular price $0.00
Tax included.
Shipping
calculated at checkout.
Editor: Corin Hughes-Stanton
Publisher: Council of Industrial Design
Publication: 1969, First Edition
Binding: Softcover, section sewn
Pages: 74
Size: 210 x 297
Text: English
Contents:
25 Leader: A choice of tomorrows
26 Comment: DRU anniversary; Mogul graphics; Selling hardware; Manchester Square lamps; Industrial designers in building
29 Diary, News
31 People
32 Spec houses, soft sell by Jake Brown
36 Prize posters : British Poster Design Awards
41 Success and failure of British posters by Russell Miller
45 Vision of manipulated man by Gilles de Bure and François Barré
50 Finland marches forward by Jaakko Lintinen
56 Modern jewellery in a new idiom by Susan Causey
60 New ways to set the sails by David Owen
65 The glass coach by Richard Carr
68 Mock-ups help hospital design by Randell Bott
70 Grinder redesigned for world markets by Finn Kennedy
72 Projects and developments
74 Products, interiors, events, ideas
80 Books
83 Letters
83 Obituary: Sir Walter Worboys
84 Index of manufacturers, designers and advertisers
Other contributors were David Davies, Ilse Gray and Claire Rayner
Condition: Good. All titles are used and show shelf ware consistent with age. NOTE: Ex-libris, with usual stamps/labels and inscriptions (see images). Cover partially loose from binding. Chips to spines. Rubbing to covers. Please contact me for further information on condition.
Standard Postage: Provides limited cover for loss/damage only up to £20GBP. Please select the alternative postage option for full cover. Excess shipping charges will be reimbursed. Any import charges/taxes, if incurred, to be covered by the buyer.
#0988/7