---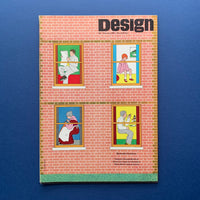 Design: Council of Industrial Design No 254, Feb 1970
Regular price $0.00
Tax included.
Shipping
calculated at checkout.
Editor: Corin Hughes-Stanton
Publisher: Council of Industrial Design
Publication: 1969, First Edition
Binding: Softcover, section sewn
Pages: 74
Size: 210 x 297
Text: English
Contents:
20 Comment
22 Diary, News
24 Aiding the disabled
28 Postgraduate wheelchair projects by Austin Isherwood and Bruce Archer
34 What kind of tricycle or car ? by Michael Hall
36 Better hands for a better life by R J Feeney
40 Machines which turn movements into words by Alison Shaw
42 A word-store." typewriter that works by codes
44 Tableware reappraised by Selwyn Goldsmith
45 The long search for a symbol by Selwyn Goldsmith
46 All-purpose Channel ferry by Richard Carr
54 Spotlight on Rotaflex by David Wainwright
56 Saturday graphics
58 Funny business at the seaside by Alastair Best
62 Caravan competition: plastics for the future ? by Andrew Lucas
64 Production-line artistry by Jake Brown
66 Teaching the nature of matter by Andrew Lucas
68 Projects and developments
70 Interiors
72 Things seen
76 Books
79 Letters and obituaries
81 Index of manufacturers, designers and advertisers
Condition: Good. All titles are used and show shelf ware consistent with age. NOTE: Ex-libris, with usual stamps/labels and inscriptions (see images). Cover partially loose from binding. Chips to spines. Rubbing to covers. Please contact me for further information on condition.
Standard Postage: Provides limited cover for loss/damage only up to £20GBP. Please select the alternative postage option for full cover. Excess shipping charges will be reimbursed. Any import charges/taxes, if incurred, to be covered by the buyer.
#0991/7