---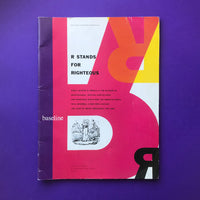 Baseline 11 (Bradbury Thomson)
Regular price $0.00
Tax included.
Shipping
calculated at checkout.
Details: Esselte Letraset Ltd. 1989. First edition. Softcover. Saddle stitch. 50pp. 270 x 360mm. Printed in colour, paginated. Text in English.
About: Baseline 11, 1989. Cover; The letter 'R' , from the word 'AMERICA'. Westvaco 1953, No.192. Design by Bradbury Thomson. Contents; New work, Tibor's Typo Tips, Interrelations between Calligraphy and Typography, Werner Schneider and Max Caflish, Bradbury Thompson, Times Roman through the generations, Punk Typography, Phil Baines, Emigré, Star, Designer Spectacles, Desert Island Type – Dr. Herbert Spencer, Reviews.
"During 21 years of publication, Baseline has become the leading international magazine about type and typography. It began life in 1979, published by the graphics arts products manufacturer, Letraset. It was originally intended as mainly a vehicle to promote new typeface designs, made available under licence to typesetting system manufacturers. Published 'when available material allowed', Baseline nevertheless gained an immediate reputation despite only appearing on average once a year for its first 10 years of existence. Its editorial content, despite the obligatory typeface promotion, struck a chord with the typographic community, because of its objective, and informed approach." (Source) www.baselinemagazine.com/

Very good condition; light shelf ware consistent with age, interior clean. Binding tight. Slight bumps to corners and creases to edges. Please contact me should you have any further questions about condition.
Standard postage only provides limited cover for loss/damage up to £20GBP. Please select the alternative postage option for full cover. Any import charges/taxes, if incurred, to be covered by the buyer.  
#0312/6