---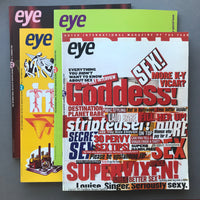 Eye Vol.6, No's 21-24 / The International Review of Graphic Design LOT
Regular price $0.00
Tax included.
Shipping
calculated at checkout.
Editor: Rick Poynor
Publisher: Wordsearch Ltd.
Publication: 1996-97, First Edition
Binding: Perfect-bound
Pages: 88
Size: 240 x 294
Text: English
Kickstart your 'Eye, International Review of Graphic Design' collection:
No.21, Vol.6 1996; Me Company, Annual reports, Peter Greenaway, Design for classical music, Sue Coe.
No.22, Vol.6 1996; Cornel Windlin, The big idea, Dan Fern, Art catalogues, The dumbing-down of design.
No.23, Vol.6 1996; David James, W.A. Dwiggins, Edward Fella's sketchbooks, Pierre di Sciullo, Hans-Rudolf Lutz.
No.24, Vol.6 1997; Mark Farrow, Uwe Loesch, Babe culture, Body modernism, Michael Bierut, Lester Beall.
Discount available for the purchase of 3 or more Eye LOTS. Contact me for more information.
Condition: Very Good. All titles are used and show shelf ware consistent with age. Slight rubbing to covers. Please contact me for further information on condition.
Standard Postage: Standard Postage: Provides limited cover for loss/damage only up to £20GBP. Please select the alternative postage option for full cover. Excess shipping charges will be reimbursed. Any import charges/taxes, if incurred, to be covered by the buyer.
#0516/55