---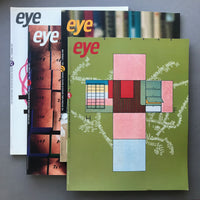 Eye Vol.7, No's 25-28 / The International Review of Graphic Design LOT
Regular price $0.00
Tax included.
Shipping
calculated at checkout.
Editor: Rick Poynor
Publisher: Wordsearch Ltd.
Publication: 1996-97, First Edition
Binding: Perfect-bound
Pages: 88
Size: 240 x 294
Text: English
Kickstart your 'Eye, International Review of Graphic Design' collection:
No.25, Vol.7 1997; Paul Elliman, The aesthetics of transience, Milton Glaser, Croatia, Willem Sandberg.
No.26, Vol.7 1997; Graphic scores, Gunter Rambow, Web interfaces, Mieke Gerritzen, Picture magazines.
No.27, Vol.7 1998; The endless library, Funny garbage, Erik Nitsche, Artist's books, Gérard Paris-Clavel.
No.28, Vol.7 1998; Post tool, The Architectural Review, Opaque icons, Museum of the ordinary, Wired.
Discount available for the purchase of 3 or more Eye LOTS. Contact me for more information.
Condition: Very Good. All titles are used and show shelf ware consistent with age. Slight rubbing to covers. Please contact me for further information on condition.
Standard Postage: Standard Postage: Provides limited cover for loss/damage only up to £20GBP. Please select the alternative postage option for full cover. Excess shipping charges will be reimbursed. Any import charges/taxes, if incurred, to be covered by the buyer.
0517/40