---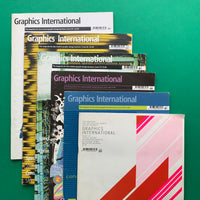 Sale
Graphics International: The magazine for the creative graphic design business (2000–03)
Sale price $10.37 Regular price $18.15
Tax included.
Shipping
calculated at checkout.
Editors: Chris Barrett, Caroline Roberts
Publisher: Warren Parkinson
Publication: 2000–03, First Edition
Binding: Softcover, saddle-stitch
Pages: 66
Size: 250 x 350
Text: English
Grafik lasted nearly a quarter century as an independently published magazine. It started life as Hot Graphics International in the mid '80s during the 'Digital Revolution'. With help from Meta and a new editor Tim Rich, the magazine was transformed into a monthly magazine Graphics International. In 2001 Caroline Roberts took over the role of editor and in July 2003 the magazine underwent a radical transformation of rebranding and re-designing by London-based graphic design agency MadeThought. The magazine was now called Grafik.
Issues:
72, February 2000
83, March 2001
92, February 2002
101, December 2002
103, February 2003
106, June 2003
Automatically receive 15% off all orders over £50 at checkout when you purchase items in the 'Bundles' category.
Condition: Very Good. All titles are used and show shelf ware consistent with age. Light rubbing to covers. Please contact me for further information on condition.
Standard Postage: Provides limited cover for loss/damage only up to £20GBP. Please select the alternative 'tracked postage' option at checkout for full cover on more valuable items! Excess shipping charges will be reimbursed. Any import charges/taxes, if incurred, to be covered by the buyer.
#1857