---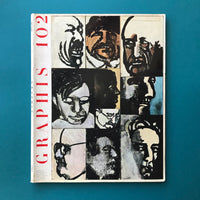 Graphis No.102, Vol.18 (1962)
Regular price $0.00
Tax included.
Shipping
calculated at checkout.
Editor: Walter Herdeg
Publisher: Graphis Press
Publication: 1962, First Edition
Binding: Perfect-bound
Pages: 100
Size: 235 x 300
Text: English, French, German
Graphis No.102, Vol.18 (1962) - International Journal of Graphic Art & Applied Art
Contents:
380 Marsaru Katsumi, Tokyo: Young Japanese Designers
400 Sterling McInlhany, New York: Seymour Chwast
412 Dr. Hans A. Halbey, Offenbach a/m: Winter + Bischoff
418 Warja Honegger-Lavater, Zürich: Warja Honegger-Lavater
430 Charles Rosner, London: Air India
434 Dr. Margot Seindenberg, Zürich: Artists' Christmas and New Year's Cards
444 Dr. W. Franke, Herrching: Microcormic Structures
454 Dr. W. Franke, Herrching: Varia
463 Book Review
Condition: Good. All Graphis titles are Ex-Libris and show shelf ware consistent with age; to include minor pen inscription(s) and rubbing to cover, wear to spine, and minor ink stamp to first end page, otherwise interiors are clean. Please see listing image (or contact me) for further information on condition.
Standard Postage: Standard Postage: Provides limited cover for loss/damage only up to £20GBP. Please select the alternative postage option for full cover. Excess shipping charges will be reimbursed. Any import charges/taxes, if incurred, to be covered by the buyer.

#0524/10