---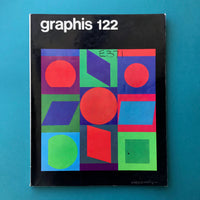 Graphis No.122, Vol.21 (1965)
Regular price $0.00
Tax included.
Shipping
calculated at checkout.
Editor: Walter Herdeg
Publisher: Graphis Press
Publication: 1965, First Edition
Binding: Perfect-bound
Pages: 100
Size: 235 x 300
Text: English, French, German
Graphis No.122, Vol.21 (1965) - International Journal of Graphic Art & Applied Art
Contents:
460 Victor Vasarely, Annet sur Marne: Victor Vasarely
472 Dr. Willy Rotzler, Zürich: Citroén – An Individual Advertising Style for an Individualist's Car
486 Jerome Snyder, New York: Ohrbach's – Successful Newspaper Advertising
494 Manuel Gasser, Zürich: Domenico Gnoli
502 Ayao Yamana, Tokyo: Shiseido – A Japanese Cosmetics Company
508 Sigwart Blum, Olivos: Four Young South American Artists
518 Jules Leroy, Paris: Early Ethiopian Book and Freso Painting
522 Douglas Newton, New York: Masterpieces from the South Seas
530 Stanley Mason, Zürich: Lines of the Alphabet in the Sixteenth Century
532 Théo Stama, Paris: Girofla – Dolls
541 Book Review
Condition: Good. All Graphis titles are Ex-Libris and show shelf ware consistent with age; to include minor pen inscription(s) and rubbing to cover, wear to spine, and minor ink stamp to first end page, otherwise interiors are clean. Please see listing image (or contact me) for further information on condition.
Standard Postage: Standard Postage: Provides limited cover for loss/damage only up to £20GBP. Please select the alternative postage option for full cover. Excess shipping charges will be reimbursed. Any import charges/taxes, if incurred, to be covered by the buyer.
#0529/10