---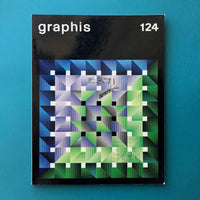 Graphis No.124, Vol.22 (1966)
Regular price $0.00
Tax included.
Shipping
calculated at checkout.
Editor: Walter Herdeg
Publisher: Graphis Press
Publication: 1966, First Edition
Binding: Perfect-bound
Pages: 100
Size: 235 x 300
Text: English, French, German
Graphis No.124, Vol.22 (1966) - International Journal of Graphic Art & Applied Art
Contents:
102 Dr. Willy Rotzler, Zürich: HAP Grieshaber – Woodcut Artist and Printer
118 Heinz Skrobucha, Recklinghausen: The World of the Icon
128 Yusaku Kamekura, Tokyo: Traditional Japanese Packaging
138 John Massey, Chicago: The Walter Paepcke Design Award Program
144 Jean Duvoisin, Paris: Saint Gobain 1665 – 1965
148 Silas H. Rhodes, New York: Campus Advertising in the USA
168 William B. McDonald, London: The Self-Portrait: An Experimental Art Student Project
170 Eugen Gomringer, Zürich: Toshihiro Katayama and his Coloured Constellations
174 Marvin Schwartz, New York: Modern Record Cover Designs
Condition: Good. All Graphis titles are Ex-Libris and show shelf ware consistent with age; to include minor pen inscription(s) and rubbing to cover, wear to spine, and minor ink stamp to first end page, otherwise interiors are clean. Please see listing image (or contact me) for further information on condition.
Standard Postage: Standard Postage: Provides limited cover for loss/damage only up to £20GBP. Please select the alternative postage option for full cover. Excess shipping charges will be reimbursed. Any import charges/taxes, if incurred, to be covered by the buyer.
#0531/7