---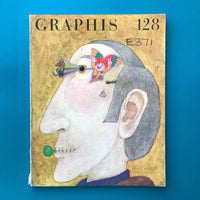 Graphis No.128, Vol.22 (1966)
Regular price $0.00
Tax included.
Shipping
calculated at checkout.
Editor: Walter Herdeg
Publisher: Graphis Press
Publication: 1966, First Edition
Binding: Perfect-bound
Pages: 100
Size: 235 x 300
Text: English, French, German
Graphis No.128, Vol.22 (1966) - International Journal of Graphic Art & Applied Art
Contents:
476 Margit Staber, Zürich: Swiss Posters 1966
488 Pierre Descargues, Paris: Compagnie de l'Esthétique Industrielle (CEI), Raymond Loewy, Paris
494 Jerome Snyder, New York: The Eighth Annual Exhibition of American Illustration
506 Jerome Snyder, New York: Etienne Delessert
516 Dr. Erika Billeter, Zürich: Aghthamar. Christian Images in Armenian Anatolia
524 Manuel Gasser, Zürich: Letters to Lisa
534 Jerzy Wasniewsky, Warszawa: Polish Circus Posters
540 Angéle Baumeister, Zürich: HAP Grieshaber. The Dance of Death at Basle
542 Jean Duvoisin, Paris: Le Déserteur. A French refugee becomes a Swiss peasant painter
544 Stanley Mason, Zurich: Scanadart. Scandinavian Advertising and Editorial Art
548 Dr. Maria Netter, Basle: René Auberjonois
# Book Review
Condition: Good. All Graphis titles are Ex-Libris and show shelf ware consistent with age; to include minor pen inscription(s) and rubbing to cover, wear to spine, and minor ink stamp to first end page, otherwise interiors are clean. Please see listing image (or contact me) for further information on condition.
Standard Postage: Standard Postage: Provides limited cover for loss/damage only up to £20GBP. Please select the alternative postage option for full cover. Excess shipping charges will be reimbursed. Any import charges/taxes, if incurred, to be covered by the buyer.
#0535/10