---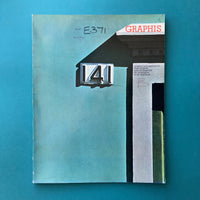 Graphis No.141, Vol.25 (1969)
Regular price $0.00
Tax included.
Shipping
calculated at checkout.
Editor: Walter Herdeg
Publisher: Graphis Press
Publication: 1969, First Edition
Binding: Perfect-bound
Pages: 100
Size: 235 x 300
Text: English, French, German
Graphis No.141, Vol.25 (1969) - International Journal of Graphic Art & Applied Art
Contents:
10 Dr. Willy Rotzler, Zurich/Hans Neuburg, Zurich: VSG. Thirty Years of Graphic Design in Switzerland, 1938-1968
52 Ken Baynes, London: Screen Prints - Original Graphic Art?
60 Lou Dorfsman, New York: Olaf Leu. Designer, Art Director
70 Atsuko Katsube, Tokyo: The Traditional Toys of Japan: a disappearing world
80 Dr. Willy Rotzler, Zurich: Hans-Georg Rauch
86 Book Reviews
Condition: Good. All Graphis titles are Ex-Libris and show shelf ware consistent with age; to include minor pen inscription(s) and rubbing to cover, wear to spine, and minor ink stamp to first end page, otherwise interiors are clean. Please see listing image (or contact me) for further information on condition.
Standard Postage: Standard Postage: Provides limited cover for loss/damage only up to £20GBP. Please select the alternative postage option for full cover. Excess shipping charges will be reimbursed. Any import charges/taxes, if incurred, to be covered by the buyer.
#0545/10