---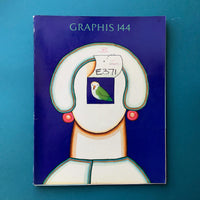 Graphis No.144, Vol.25 (1969)
Regular price $0.00
Tax included.
Shipping
calculated at checkout.
Editor: Walter Herdeg
Publisher: Graphis Press
Publication: 1969, First Edition
Binding: Perfect-bound
Pages: 100
Size: 235 x 300
Text: English, French, German
Graphis No.144, Vol.25 (1969) - International Journal of Graphic Art & Applied Art
Contents:
290 Jacques Richez, Rhode-St-Genese: Recent Belgian Graphic Design
310 Manuel Gasser, Zurich: Hans Erni: The Aldus Encyclopaedia. Graphics in the service of popular science
320 Hideyuki Oka, Tokyo: Old Japanese Matchbox Labels
324 Fernando Olmos, Madrid: Modern Spanish Matchboxes
326 Tadashi Ohashi, Tokyo: Modern Japanese Matchboxes for a Soy Sauce Manufacturer
328 Alastair Allen, Ludlow: Alphabet Book. Children Draw an Alphabet
330 Manuel Gasser, Zurich: Tim: Une certaine idée de la France
340 Arpag Mekhitarian, Bruxelles: Armenian Miniatures
350 Stanley Mason, Zurich: Lester Beall. A Pioneer of American Advertising Art
362 Book Reviews
Condition: Good. All Graphis titles are Ex-Libris and show shelf ware consistent with age; to include minor pen inscription(s) and rubbing to cover, wear to spine, and minor ink stamp to first end page, otherwise interiors are clean. Please see listing image (or contact me) for further information on condition.
Standard Postage: Standard Postage: Provides limited cover for loss/damage only up to £20GBP. Please select the alternative postage option for full cover. Excess shipping charges will be reimbursed. Any import charges/taxes, if incurred, to be covered by the buyer.
#0548/9e