---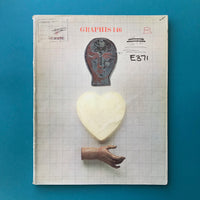 Graphis No.146, Vol.25 (1969)
Regular price $0.00
Tax included.
Shipping
calculated at checkout.
Editor: Walter Herdeg
Publisher: Graphis Press
Publication: 1969, First Edition
Binding: Perfect-bound
Pages: 100
Size: 235 x 300
Text: English, French, German
Graphis No.146, Vol.25 (1969) - International Journal of Graphic Art & Applied Art
Contents:
488 Richard Guyatt, London: The School of Graphic Design
490 Ken Baynes, London: Structure
492 Richard Guyatt, London: Communication Department
500 Brian Robb, London: Illustration Department
510 Edwin La Dell, London: Print Making Department
516 John Hedgecoe, London: Photography Department
522 Ken Baynes, London: Staff Members
528 Ken Baynes, London: ARK - A Magazine Designed and Edited by RCA Students
532 Ken Baynes, London: Lion and Unicorn Press
534 David Bickmore, London: Automatic Cartography
536 Peter Waters, London: Library Materials Conservation
538 Herbert Spencer, London: Readability of Print
540 Emil Ruder, Basel: Introduction
542 Armin Hofmann, Basel: The Advanced Graphic Design Course
544 Armin Hofmann, Basel: Design Processes
546 Armin Hofmann, Basel: Variations
550 Max Schmid, Basel: Safety Symbols, Safety Signs
552 Kurt Hauert, Basel: Symbol Abstraction
554 Wolfgang Weingart, Basel: Typographic Image
556 Andre Gurtler, Basel: Lettering Signs
558 Peter von Arx, Basel: Film and Television Graphics
560 Maria Vieira, Basel: Space Structuring
562 Franz Fedier, Basel: Sign and Colour
563 Johannes Burla, Basel: Three-dimensional Signs
Condition: Good. All Graphis titles are Ex-Libris and show shelf ware consistent with age; to include minor pen inscription(s) and rubbing to cover, wear to spine, and minor ink stamp to first end page, otherwise interiors are clean. Please see listing image (or contact me) for further information on condition.
Standard Postage: Standard Postage: Provides limited cover for loss/damage only up to £20GBP. Please select the alternative postage option for full cover. Excess shipping charges will be reimbursed. Any import charges/taxes, if incurred, to be covered by the buyer.
#0550/10