---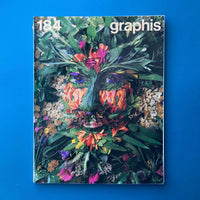 Graphis No.184, Vol.32 (1976)
Regular price $0.00
Tax included.
Shipping
calculated at checkout.
Editor: Walter Herdeg
Publisher: Graphis Press
Publication: 1976, First Edition
Binding: Perfect-bound
Pages: 100
Size: 235 x 300
Text: English, French, German
Graphis No.184, Vol.32 (1976) - International Journal of Graphic Art & Applied Art
Contents:
104 Design and Art Direction '76, London. The Fourteenth Exhibition of British Advertising and Editorial Design, by Edward Booth-Clibborn, London
118 Ernst Keller. The Pioneer of Swiss Graphic Design, by Dr. Willy Rotzler, Zurich
130 Art Directors Club Milano, by Daniele Baroni, Milan
144 Gunther Kieser. A Music Lover's Posters for Music Lovers, by Prof. Kurt Weidemann, Stuttgart
154 Michael Mathias Prechtl, by Matthias Mende, Nuremberg
166 Window Display in Switzerland, by Walter Knapp, Zurich
186 Book Reviews
Condition: Good. All Graphis titles are Ex-Libris and show shelf ware consistent with age; to include minor pen inscription(s) and rubbing to cover, wear to spine, and minor ink stamp to first end page, otherwise interiors are clean. Please see listing image (or contact me) for further information on condition.
Standard Postage: Standard Postage: Provides limited cover for loss/damage only up to £20GBP. Please select the alternative postage option for full cover. Excess shipping charges will be reimbursed. Any import charges/taxes, if incurred, to be covered by the buyer.
#0560/8