---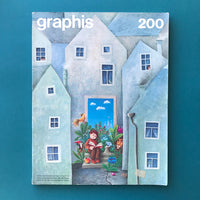 Graphis No.200, Vol.34 (1978)
Regular price $0.00
Tax included.
Shipping
calculated at checkout.
Editor: Walter Herdeg
Publisher: Graphis Press
Publication: 1978, First Edition
Binding: Perfect-bound
Pages: 100
Size: 235 x 300
Text: English, French, German
Graphis No.200, Vol.34 (1978) - International Journal of Graphic Art & Applied Art
Contents:
478 1979 Is the Year of the Child, by Dr. Hans Conzett, Zurich
480 The Rights of the Child
482 Current Picture-Book Publishing in the United States, by Michael Patrick Hearn, New York
502 Children's Books in Britain: Divergent Styles and Occasional Highlights, by Brian Alderson, London
516 French Children's Books: Cult of the New v. the Old Favourites, by Christine Chagnoux, Paris
526 German Children's Books - a Ray of Hope for Children in an Unkind Age? By H. Krahe, Hamburg
542 The International Palette of Swiss Children's Books, by Bettina Hurlimann, Zurich
560 Children's Books in Japan: Rapid Growth and a Promising Future, by Tadashi Matsui, Tokyo
566 Children's Book Illustration in Poland: A Landscape with Rainbow, by D. Wroblewska, Warsaw
576 Children's Books in Czechoslovakia: A Younger Generation Takes Over, by Dr. D. Roll, Bratislava
584 Notes on the International Picture-Book Scene, by Anna Katharina Ulrich, Basle
Condition: Good. All Graphis titles are Ex-Libris and show shelf ware consistent with age; to include minor pen inscription(s) and rubbing to cover, wear to spine, and minor ink stamp to first end page, otherwise interiors are clean. Please see listing image (or contact me) for further information on condition.
Standard Postage: Standard Postage: Provides limited cover for loss/damage only up to £20GBP. Please select the alternative postage option for full cover. Excess shipping charges will be reimbursed. Any import charges/taxes, if incurred, to be covered by the buyer.
#0564/7