---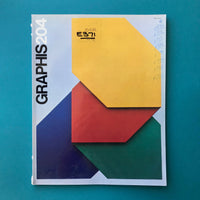 Graphis No.204, Vol.35 (1979)
Regular price $0.00
Tax included.
Shipping
calculated at checkout.
Editor: Walter Herdeg
Publisher: Graphis Press
Publication: 1979, First Edition
Binding: Perfect-bound
Pages: 100
Size: 235 x 300
Text: English, French, German
Graphis No.204, Vol.35 (1979) - International Journal of Graphic Art & Applied Art
Contents:
286 Herb Lubalin, by Stanley Mason, Zurich
302 Mulatier, Morchoisne, Ricord: Three French Caricaturists (Les Grandes Gueules), by Peter Ustinov, London
310 Annecy '79. Twelfth International Cartoon Film Festival, by Nino Weinstock, Basle
318 Ishu Patel - An Indian film animator experiments with new techniques, by Nino Weinstock, Basle
322 Odysseus, by Tony Munzlinger, Corsanico/Casesi, Italy
326 Walter Ballmer, by Glauco Felici, Milan
340 Eight Posters for the French Socialist Party, by Gilles de Bure, Paris
344 Blair Drawson, by Martha Fleming and Robert Priest, Toronto
350 Sue Coe, by Lanny Sommese, State College, Pennsylvania
360 Marshall Arisman, by Steve Heller, New York
Condition: Good. All Graphis titles are Ex-Libris and show shelf ware consistent with age; to include minor pen inscription(s) and rubbing to cover, wear to spine, and minor ink stamp to first end page, otherwise interiors are clean. Please see listing image (or contact me) for further information on condition.
Standard Postage: Standard Postage: Provides limited cover for loss/damage only up to £20GBP. Please select the alternative postage option for full cover. Excess shipping charges will be reimbursed. Any import charges/taxes, if incurred, to be covered by the buyer.
#0566/5