---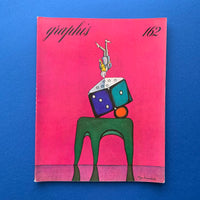 Sale
Graphis No.162, 1972/73
Sale price $9.07 Regular price $15.55
Tax included.
Shipping
calculated at checkout.
Editor: Walter Herdeg
Publisher: The Graphis Press, Zurich.
Publication: 1972, First Edition
Binding: Softcover, section sewn
Pages: 90
Size: 235 x 300
Text: English, French, German
An International Journal of Graphic Art and Applied Art.
Contents:
Greetings Cards, by Dr. Erika Billeter, Zurich
OLGA SIEMASZKO, by Mieczyslaw Piotrowski, Warsaw
Fourth International Poster Biennale in Warsaw, 1972, by Pierre Restany, Paris
Design and Art Direction 72, London. The Tenth Exhibition of British Advertising and Editorial Art,
Micromégas: An exciting form of public relations, by C. W. Davoult, Zurich
TADASHI HASHI. An Illustrator's Vision of Nature, by Hiromu Hara, Tokyo
JACQUELINE CHWAST, by Stanley Mason, Zurich
Cover design by Olga Siemaszko
Automatically receive 15% off all orders over £50 at checkout when you purchase items in the 'Bundles' category.
Condition: Very Good. All titles are used and show shelf ware consistent with age. Light rubbing to cover. Please contact me for further information on condition.
Standard Postage: Provides limited cover for loss/damage only up to £20GBP. Please select the alternative 'tracked postage' option at checkout for full cover on more valuable items! Excess shipping charges will be reimbursed. Any import charges/taxes, if incurred, to be covered by the buyer.

#1691