---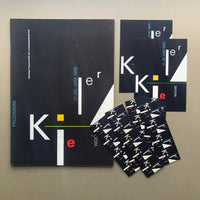 Sale
Kieler Woche 1995; Offizielle Programm & Postkarte (Barbara & Gerd Baumann) 1
Sale price $10.31 Regular price $19.33
Tax included.
Shipping
calculated at checkout.
Publisher: Kieler Woche
Publication: 1995, First Edition
Binding: Saddle stitched
Pages: 70
Size: 210 x 298
Text: German
Design: Barbara & Gerd Baumann
"Kieler Woche is a festival that takes place each year in Kiel, Germany. The festival includes nautical competitions as well as cultural events. Each year 5 designers are invited to submit 3 sketches for the event's poster. The rules are simple. The text on the poster must be limited to only Kieler Woche and the year. The type for Kieler Woche must be set i15n Adrian Frutiger's Univers. Lastly the the image must give equal weight to the sailing competition as to the cultural aspects of the festival. Designers that have contributed to this event include: Wim Crouwel, Michael Engelmann, Celestino Piatti, Anton Stankowski, Waldemar Swierzy, Otto Treumann, Hans Schweiss, Jean Widmer, Ruedi Baur, Ben Bos, Siegfried Odermatt and Rosemarie Tissi." (source) Dave Cuzner, Grain Edit
Condition: Very Good. All titles are used and show shelf ware consistent with age. Slight rubbing to covers. Please contact me for further information on condition.
Standard Postage: Standard Postage: Provides limited cover for loss/damage only up to £20GBP. Please select the alternative postage option for full cover. Excess shipping charges will be reimbursed. Any import charges/taxes, if incurred, to be covered by the buyer.
#0594/10