---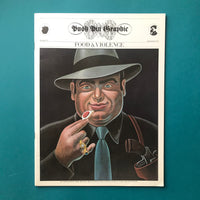 Push Pin Graphic, No.70 (Food & Violence)
Regular price $0.00
Tax included.
Shipping
calculated at checkout.
Editor: Seymour Chwast
Publisher: Push Pin Studios
Publication: 1977, First Edition
Binding: Saddle stitched
Pages: 28
Size: 230 x 305
Text: English
Push Pin Graphic, Number 70 (Food & Violence), December 1977.
'Started by Push Pin Studios as a freeform publication sent to friends and clients in 1957, the experimental and groundbreaking Push Pin Graphic, quickly developed a dedicated following, eventually running for 23 years and 86 issues. Changing to a 32-page bimonthly in 1976, and continuing publication until 1980.' (Source) www.pushpininc.com
Art directed and designed by Chwast, each is issue is a graphic presentation of a theme, representing work by Push Pin Studio artists. Number 70 features include "Dear Trixie and Dixie" (a parody of the Dear Abby columns); "Gastric Aggression" by Paula Scher; "the Murderer Who Dined Men to Death", by Bernard Bonhomme; "Everything but the Sequel" by John Collier; "Culinary Criminals"; "What are you Eating".
From the collection of British designer, John Gorham (1937 - 2001).
Condition: Very Good. All titles are used and show shelf ware consistent with age. Slight rubbing and scuffing to covers. Creases in places. Please contact me for further information on condition.
Standard Postage: Standard Postage: Provides limited cover for loss/damage only up to £20GBP. Please select the alternative postage option for full cover. Excess shipping charges will be reimbursed. Any import charges/taxes, if incurred, to be covered by the buyer.
#0483/25e