---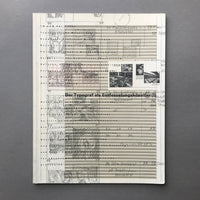 Sale
TM/SGM/RSI Nr.4 1992 (Typografische Monatsblätter)
Sale price $0.00 Regular price $19.35
Tax included.
Shipping
calculated at checkout.
Details: Published by St. Gallen, Zollikofer. 1992. First edition. Softcover. Saddle stitch. 40pp. 210 x 295mm. Printed in black and white, unpaginated. Text in German and French.
About: "Typografische Monatsblätter was one of the most important journals to successfully disseminate the phenomenon of Swiss typography to an international audience, as well as spread the burgeoning ideas of the New Wave style. In existence for almost eighty years, the journal was a vital forum for concepts and discussion. Throughout these years, the Swiss typographic journal witnessed significant moments in the history of typography and graphic design." (Source) www.lars-mueller-publishers.com
Contents include; Inhalt: 1 Gestaltung Hans Rudolf Bosshard Die Bildeinordnung in das typografische Konzept, 21 Gestaltung Hamish Thompson 50 Ways to Say No, 27 Ausbildung Zur Situation und Zielsetzung der Ausbildung Visueller Gestalter Beitrag 5 Grundlagen des Films, 31 TM-Bücherseite.
Very good condition; Ex-Libris with few stamps. Light shelf ware consistent with age, interior clean. Binding tight. Please contact me should you have any further questions about condition.
Standard postage: Provides limited cover for loss/damage only up to £20GBP. Please select the alternative postage option for full cover. Excess shipping charges will be reimbursed. Any import charges/taxes, if incurred, to be covered by the buyer. 
#0341/8