---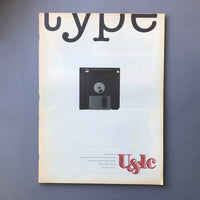 Upper & Lower Case (U&lc) Fall 1996
Regular price $0.00
Tax included.
Shipping
calculated at checkout.
Deta
ils: Richardson, Margaret. International Typeface Corporation. 1996. First edition. Softcover. Saddle stitch. 112pp. 275 x 370mm. Printed in colour, paginated. Text in English. Design, Michael Ian Kaye.
Ab
out: U&lc. Volume 23, Number 3, Winter 1996. The International Journal of Graphic Design and Digital Media. Contents; Peter Greenaway, Type Through Time, Saul Bass, Spanning the Glore, Pablo Picasso, Tools of the New Auteurs, Philippe Stark, The Designers, Richard McGuire, Art Words, Fred Woodward.
"One of the first publications intended specifically for the design community, U&lc (shorthand for Upper and lower case) was a product of Herb Lubalin and the International Typeface Corporation. The production run of the magazine lasted from 1970 to 1999 and there were over 120 issues produced during that time. The magazine was an effort to display and advertise for the latest typefaces from ITC, which was the first type foundry to have nothing to do with the production of metal type." (Source) www.designishistory.com/1960/ulc/
Good condition: rubbing to covers, light bumps to corners, age toning to pages. 1" tare to front cover right edge. Please contact me should you have any further questions about condition.
#0164/5