---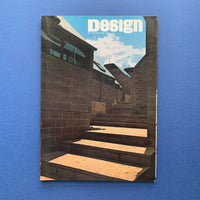 Design: Council of Industrial Design No 273, Sept 1971
Regular price $0.00
Tax included.
Shipping
calculated at checkout.
Editor: Corin Hughes-Stanton
Publisher: Council of Industrial Design
Publication: 1971, First Edition
Binding: Softcover, section sewn
Pages: 74
Size: 210 x 297
Text: English
Contents:
22 Comment
25 News
27 Diary
29 If it works, rails are for the future Ted Schoeters on the Advanced Passenger Train prototype
35 Keeper of Standards G B R Feilden talks to Andy McElroy
38 Still lifer portrait of Lester Bookbinder by Robert Waterhouse
44 Whose identity, and why so corporate? by lan Breach
46 Freedom in court Corin Hughes Stanton on Court 111, Surrey University
54 Magic gardens round the Bush José Manser discusses the cosmetic treatment of an incomplete shopping centre
56 Belfast cool line Alastair Best on a Post Office consumer shop
60 Mirrors beyond the looking glass
62 Kilkenny Jake Brown reassesses the importance to Ireland of Kilkenny Design Workshops
66 Projects and developments
68 Interiors
72 Things seen
77 New products and materials
Condition: Very Good. All titles are used and show shelf ware consistent with age. Slight rubbing and tanning to covers/spine. Please contact me for further information on condition.
Standard Postage: Provides limited cover for loss/damage only up to £20GBP. Please select the alternative postage option for full cover. Excess shipping charges will be reimbursed. Any import charges/taxes, if incurred, to be covered by the buyer.
1003/7