---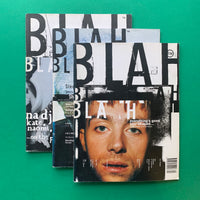 BLAH BLAH BLAH, Issues No.01–03, 1996
Regular price $172.91
Tax included.
Shipping
calculated at checkout.
Editor: Marvin Scott Jarrett
Publisher: Ray Gun Publishing Ltd
Publication: 1996, First Edition
Binding: Softcover, saddle-stitch
Pages: 94
Size: 230 x 300
Text: English
Design: Chris Ashworth, Neil Fletcher and Amanda Sissons (Substance)
'British music and lifestyle monthly Blah Blah Blah appeared in a joint transatlantic venture between MTV Europe and American Ray Gun Publishing in 1996. It followed the design thinking of the groundbreaking Ray Gun which was first published in 1992 with David Carson as art director.
Chris Ashworth, Neil Fletcher and Amanda Sissons (collectively known as design team Substance) loved the thrill of deconstruction, the energy in decay. It was the opposite end of the spectrum to Q and Select which then dominated the UK music press.' (Source) www.magculture.com
Condition: Very Good. All titles are used and show shelf ware consistent with age. Light rubbing, creasing tanning to cover. Light tanning to outer edges of interior pages.

Standard Postage: Provides limited cover for loss/damage only up to £20GBP. Please select the alternative 'tracked postage' option at checkout for full cover on more valuable items! Excess shipping charges will be reimbursed. Any import charges/taxes, if incurred, to be covered by the buyer.
#2537